Clergy Collar Comedy Tour
You already know how great laughter is. It makes us feel good, forget all the things that ails us. But what if you could laugh and raise money for a great cause all at the same time. And what if this cause could be your cause. It would be a comedy event that wins and wins.
That is exactly what the Clergy Collar Comedy Tour is all about. Host this comedy event and your people will have a good time, hear a good message, and when we leave you will have money for your cause. We win people to the Lord and you raise money for Kingdom and civic projects.
How it works ...
An evening of family friendly stand up comedy for an hour and one half to two hours with experienced comedians plus the winner of the local "top comic" contest. The local comic will be given five minutes and a cash prize from Clergy Collar Comedy Tour.
There is often a brief Gospel Presentation and a "low pressure" opportunity for people to accept the Lord. Dozens and dozens of people have received the Lord at these comedy events.
Five dollars for every ticket sold will be donated to the cause of the organization's choice upon departure. The more tickets sold, the higher the fund-raiser for your cause!!
More information on booking the tour.
Kinds of Causes ...
Speed the Light – Youth fund providing equipment to missionaries.
Teen Challenge – Juvenille drug rehabilitation program.
Teen Advisors – Youth Positive Peer Program that works
Building Funds.
Camp Fund.
Mission Trip Fund.
Booster Club
Right to Life
Private School fund drive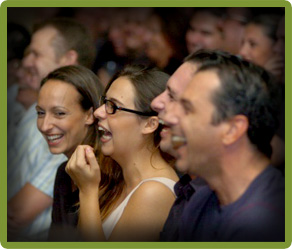 What others say ...
Got to say, this was way more fun than washing cars. We were able to make a huge dent in our speed-the-light goal for the year. The whole church got on board and it was a lot of fun for the whole community. Thanks to the Clergy Collar Comedy Tour for this amazing idea. It is a three fold win. Great fun, made some money for missions and the presentation of the Gospel message spoke to many and was a great encouragement to our church.
Damon Sykes
Youth Pastor, Alabama
Since the first time Joe Phillips preached in our district, he has been one of those evangelists that people request to return again and again. His unique sense of humor draws students' attention, and his anointed preaching of sound doctrine changes students' lives.
Dane Hall
Arkansas District Youth Director
Here's the "word on the street", it was the best Fusion yet!  All of the kids loved it, as did the parents and coaches who attended.
Bill Dando
FCA Director
Lee McBride will make your sides split from laughter. From outdoor humor to everyday life happenings, Lee brings out the comedy in everything. He was a big factor in the huge success of our event and can't wait to have him back.
Michael Henley
Pastor, Tennessee